Game Specials 1 July 2022 : Half Way Day (01 July 2022 Only), Game has a new once-a-year sale on Friday. The nappies and coffee are cheap, beer not so much. On Friday, 1 July, Game is running a one-day-only sale it says will become an annual event: "Halfway Day". game special, game tv specials this week, game specials 2022, game : more for less catalogue, game stores catalogue, makro specials, game more for less 2022, game specials on phones
The idea is to offer the best prices shoppers need on "whatever they need to make it through the second half of the year", the chain said in a statement.
This being Game, that means a discounts-book that includes a fair number of TVs, a couple of different types of heaters and, for some reason, a trampoline.
But Game is also selling a couple of essentials with long shelf lives at the kind of prices that make for a good opportunity to stock up, even if you aren't worried about consumer inflation.
>>> Join Telegram Now For MORE INFOMATION 👉👉 CLICK HERE TO JOIN
Just not if you are looking for beer.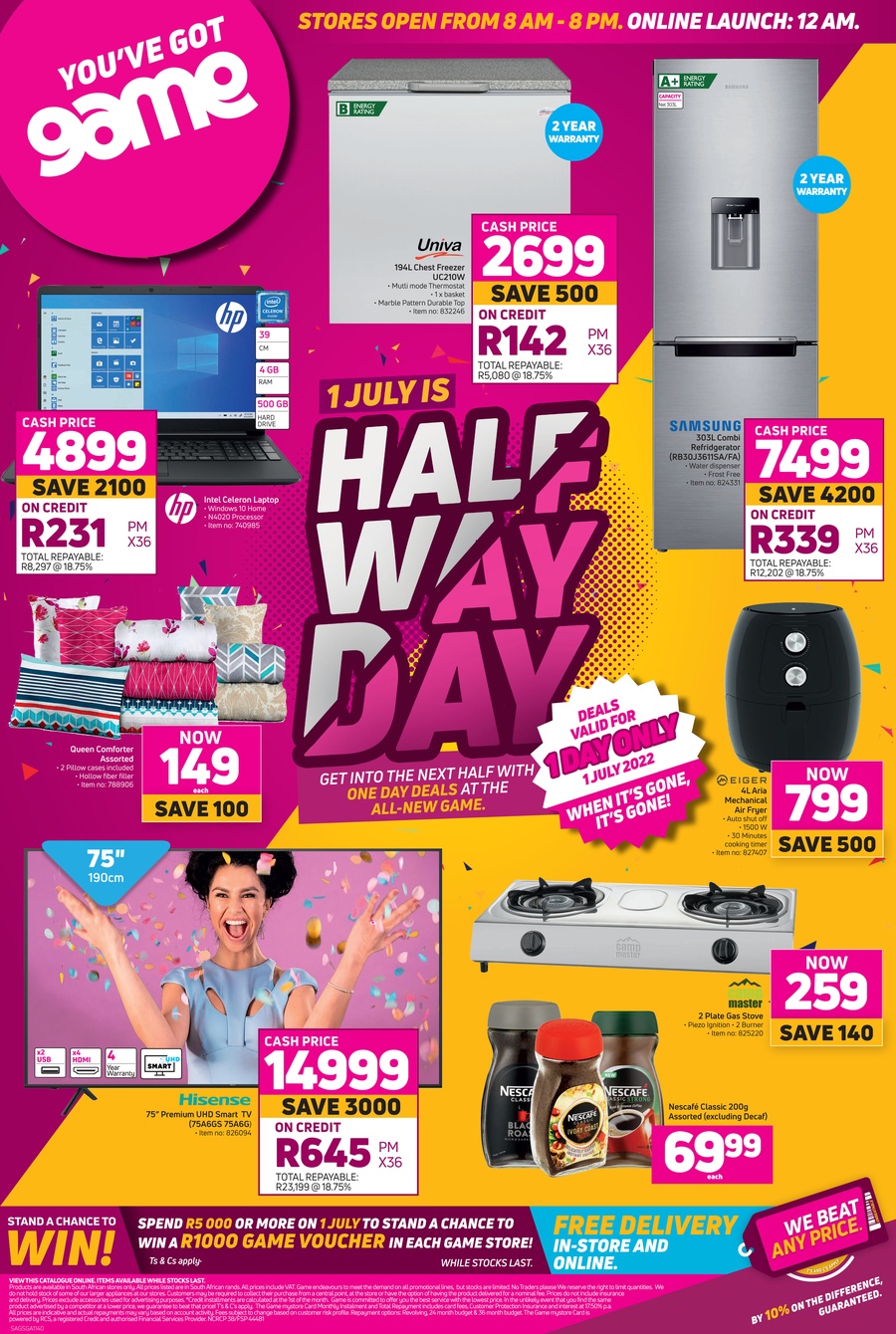 Game Specials 1 July 2022 : Half Way Day (01 July 2022 Only)
Here are some of the deep discounts that provide a good chance to stock up – and the beer you don't need to bother with.
Various (but not all) Nescafe coffees, 200g, at R70 – better than 30% off
You will normally pay R100 or so for a 200g jar of Nescafe coffee these days. On a special buy-3-pay-for-2 promotion, you could get it at an effective R73 per jar, the best deal we've seen in a while.
Game is coming in at just under R70, which is better than 30% off on something with a long shelf life.
That includes the various flavours in the Nescafe range, but not decaf.
A 5-pack of Maggi Noodles for R18 – 40% under the standard price
Shoprite will sell you one of Maggi Noodles' 5-packs for R30. Local deals of around R22 are not unheard of. Pick n Pay has a bundle deal: three for R66, so also an effective R22 each.
The Game special is for one cent under R18, which is just about 20% under the other specials and a full 40% off the usual price.
Jumbo packs of Huggies Dry Comfort nappies at 15% below other specials – though not that much cheaper than Makro
You can pay R245 for a jumbo pack of Huggies Dry Comfort nappies online, or you can go to Clicks for a R199 special that runs until 20 July.
Compared to that, the Halfway Day special from Game at R169 per pack is pretty good – though you can get the same thing for R172 from its stablemate Makro, without the pressure of a one-day-only event; the Makro offer is good until 6 July.
Pampers Active pants, as a mega box, for 5% below the best other special we can find
There are sellers who will try to charge you more than R500 for the "mega box" of Pampers Active disposable nappy pants. Those who aren't out to get you may ask R429 for the same thing, and call it a good deal.
On a Game special – a long-term one, until 26 July – you can pay R399 instead, but that is beaten by Dis-Chem, with a R370 special.
Compared to that, the R349 on the Game Halfway Day is just about 5% lower than the best other big-chain special we know of, but that is a pretty darn good price.
Energizer batteries for half what you will pay elsewhere
For reasons that are not entirely clear, Energizer sells the same AA batteries in both a 12 pack and a "15 pack", except that one comes with five "free", so you end up with 20 batteries.
Go to Pick n Pay, and you will pay R130 for the 12-pack, an effective R10.83 for each battery. Go to Makro, and you'll pay R190 for the 20-pack, an effective R9.50 per battery.
On Halfway Day, Game is offering that same 20-pack, and the AAA version, for R99, which comes to R4.95 per battery.
Not worth the hassle: a 24 pack of Castle Lite 330ml bottles for… the exact same price as everywhere else
Game is promoting its R239.99 price for a four sixpacks of Castle Lite 330ml bottles as part of the Halfway sale. That is the same everyday price we found at Shoprite and smaller stockists, and not as good as the current Pick n Pay discount – even before you factor in its 3-for-2 offer.